Middleman Blog Editor v0.4
I'm happy to announce Middleman Blog Editor v0.4, the second feature release of the project. With this release comes two big features and a bump in price to $12. You can purchase a license here. Existing users get free updates all the way until the 2.0 release. The next release, the price will be bumped to $18.
The first new feature is the ability to "Open in editor" via a button on the preview pages of the blog entries. If you're looking at /2013-04-08-my-article, there will be an "Edit" link in the top-right to jump you directly into the editor.
The second feature is a big one:
Markdown Editing
Now markdown articles, .md and .markdown templates, have their own editor. The default view mirrors your content back to you and allows you to toggle between editing and previewing with a click. There is also a split-screen "focus" mode which allows you to edit articles full screen and stay focused.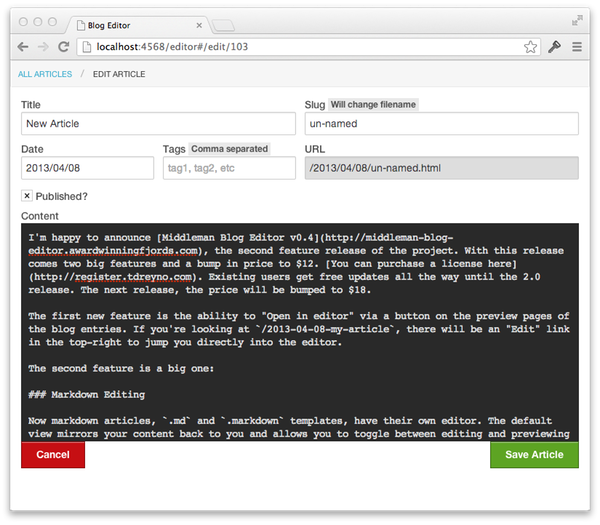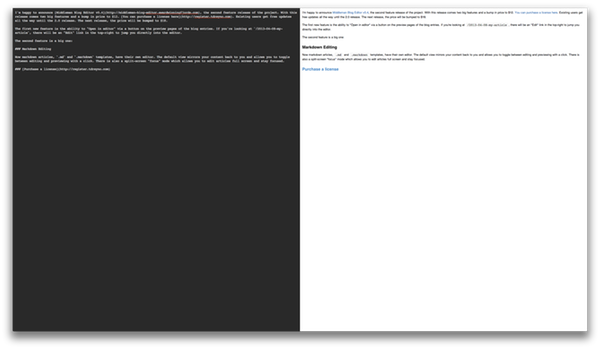 Future roadmap:
0.6 ($18)
Frontmatter Editing
Article Searching (Full Text)
Article Sorting (By Tags, Date, etc)
List Paging
0.8 ($24)
Client Accounts & Permission
White-label Admin
1.0 ($30)
Final Polish
Full Test-coverage (automated on Travis)
Code docs
2.0
Admin Localization
Wordpress Importer
Disqus Integration
Edit non-local (Git Push/Pull)
Markdown/Textile Editing
Official Website
Please refer to the official website for documentation and support: http://middleman-blog-editor.awardwinningfjords.com